Ferrero Rocher: Make Your Moments Golden (Contest and Giveaway)
As the holiday season approaches, it's time to stock up on chocolates! My first choice: Ferrero Rochers! I know there are many varieties of the chocolate nowadays (coconut, fruit, almond and dark chocolate) but my favourite remains the classic, sparkling golden foil wrapped hazelnut cream, wafer shell and milk chocolate balls. I even have early memories of my grandma giving us Ferrero Rochers at Christmas time, back then, it took me nearly 5 bites to finish what (to a little kid) seemed like a giant ball of chocolate.
My favourite part about Ferrero Rochers is a tie between the sweet hazelnut and that trademark crunch of the wafer shell when I take my first bite. And what's a better combo than chocolate and hazelnut? It's impossible to just eat one of these golden spheres of sweetness.
Make Your Moments Golden Ferrero Rocher Contest
This holiday season, you could have a chance to win $500,000 in prizes including 1 of 10 Mercedes-Benz All-New 2013 B-Class Vehicles or a Ferrero Rocher Holiday Hosting gift basket. Just find a PIN on specifically marked Ferrero Rocher 200 gram box of chocolates and redeem PINs on the Ferrero Rocher Canada Facebook Page. The contest is only open to Canadian residents. Please refer to the Ferrero Rocher Canada Facebook Page for contest details.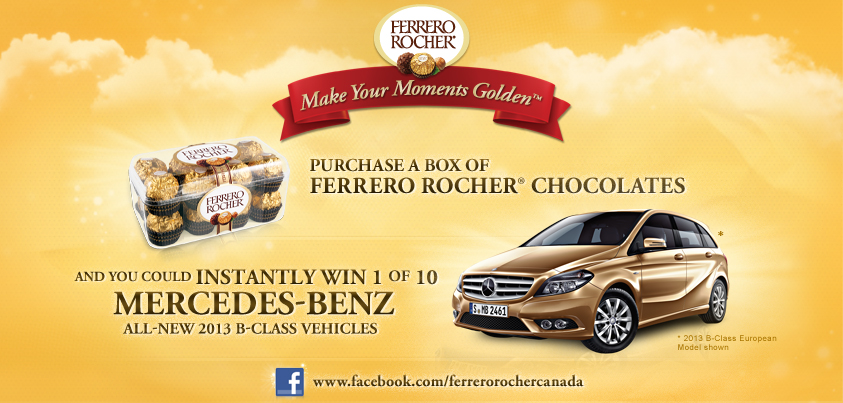 Food Punk Ferrero Rocher Giveaway
To kick off the contest, I'm giving away one free 200 gram box of Ferrero Rocher chocolates to one of my Canadian readers. To enter, just leave a comment below quoting how many bites it takes you to finish a Ferrero Rocher chocolate or post on Twitter: RT to enter! I want to win a free box of Ferrero Rocher chocolates from food punk @ange_leung ! http://bit.ly/XJB6Fp

A Ferrero Rocher giveaway winner will be drawn on Sunday, November 25, 2012. Only open to Canadian residents.